Caresheet for Neon tetra (Paracheirodon innesi)
| | |
| --- | --- |
| Kingdom: | Animalia |
| Phylum: | Chordata |
| Class: | Actinopterygii |
| Order: | Characiformes |
| Family: | Cyprinidae |
| Genus: | Paracheirodon |
| Species: | P. innesi |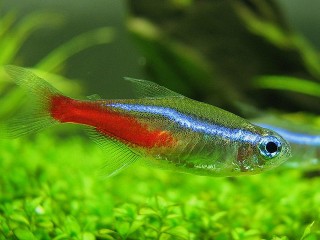 General Description
Neons are a beautiful small fish with a bright blue/green stripe along their bodies, followed by a red band around their middle stretching to their tail. The adult males are slightly smaller and slimmer than the females.
Distribution
The Neon tetra is native to blackwater or clearwater streams in southeastern Colombia, eastern Peru, and western Brazil.
Size
4 cm (1.5 in)
Life span
Up to 10 years
Difficulty
Intermediate. The difficulty lies in preventing the build up of nitrate levels.
Behaviour
Peaceful and best kept in schools of 6 or more
Tank Size
5 gallon or larger
Tank Region
Mostly middle to bottom
Temperature
69F - 79F (21C - 26C)
Diet
Omnivore - will eat many food items including flakes, pellets and live foods.
Reproduction
They are difficult to breed in the home aquarium.
pH
5 to 7.5
Water Hardness(dH)
1 to 10