Caresheet for Guppy (Poecilia reticulata
| | |
| --- | --- |
| Kingdom: | Animalia |
| Phylum: | Chordata |
| Class: | Actinopterygii |
| Order: | Cyprinodontiformes |
| Family: | Poeciliidae |
| Genus: | Poecilia |
| Species: | P. reticulata |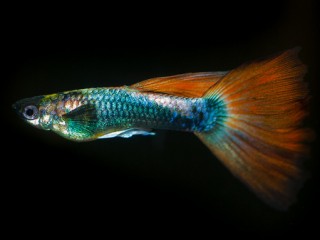 General Description
The males have larger and more colourful tails.
Distribution
Antigua and Barbuda, Barbados, Brazil, Guyana, Netherlands Antilles, Trinidad and Tobago, the U.S. Virgin Islands and Venezuela. They have also been introduced to many other countries.
Size
2 inches (5 cm)
Life span
3 - 5 years
Difficulty
Easy, a good freshwater fish for beginners
Behaviour
Peaceful and very active. They mix well with other fish.
Tank Size
5 gallon or larger
Tank Region
Mostly middle to top
Temperature
66F - 84F (19C - 29C)
Diet
Omnivore - will eat many food items including flakes, pellets and live foods.
Reproduction
Easy. They are livebearers and the young must be separated from the adults to prevent them being eaten.
pH
7 - 8
Water Hardness(dH)
10-20